Poesie trifft Wissenschaft / Poetry Meets Science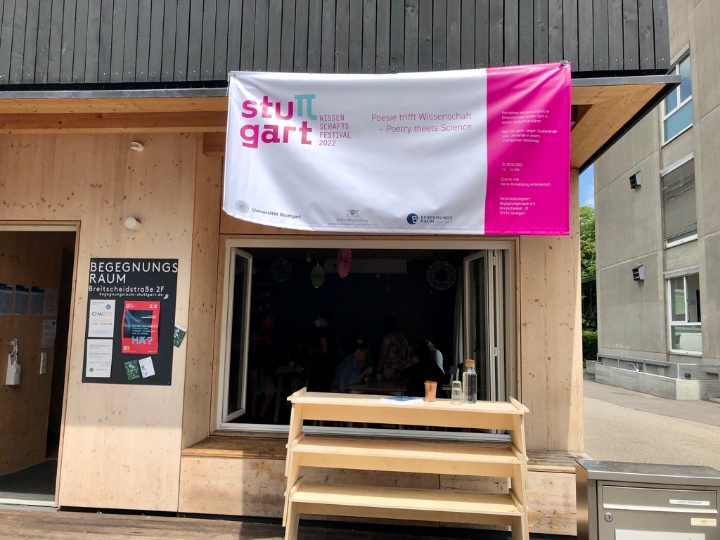 Starting with Creative Writing …
Is it possible to combine science and poetry? All those who visited the Science Meets Poetry event in June 2022 had the opportunity to participate in a variety of stations, each focused on one creative writing task on climate change or a science-related theme, from incorporating chemical formulas into verse, to speaking from the perspective of a tree.
Here are a few examples of the exercises, along with a few of the results:
STATION 1: Making a Tree Trunk Mobile: How can we 'speak tree'?
Visitors wrote write three-to-five lines from the point of view of a tree on a card. Together the cards were strung along a thread to become a set of tree-truck mobiles hanging from the ceiling. Here's the result of one card:
Life
I may be old and wise,
Have seen a thousand things,
Lived every day in peace and harmony.
Yet still I wonder.
Why don't humans live the
Same way?
STATION 2: Integrating Chemical Formulas into Poetry
As a more complicated task, the goal of this exercise was to see how chemical formulas and lyrical prosody can work toward the same goal, namely to encourage us to become careful witnesses of the world around us. Prompts ranged from the Theory of Relativity (E = m · c2) to the Pythagorean Theorem (a2 + b2 = c2). Here is one resulting poem:
Formula/Title: Voltage: E = I · R
E-Mobility conquers step by step
people's mobility facilities;
it becomes irreplaceable
with rising fuel prices;
within a certain radius,
there are no complications.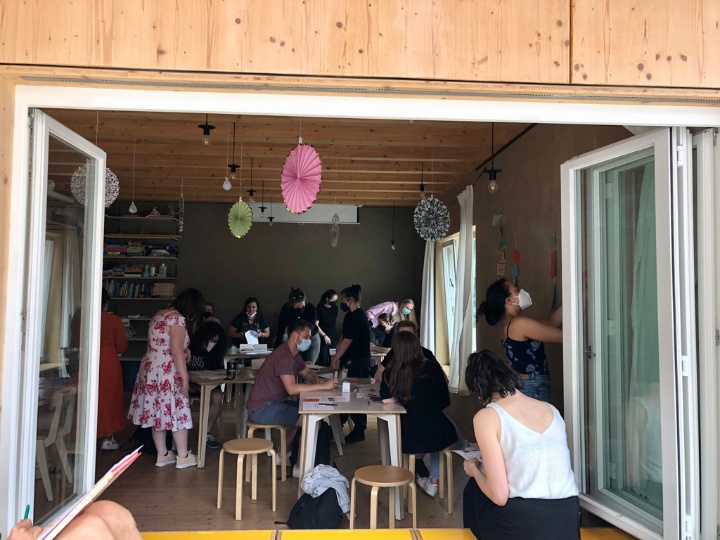 STATION 3: Saving the Planet in Nine Lines and Nine Syllables
Using Paula Meehan's 2006 Geomantic, a series of 81 'niners' (a nine-lined, nine syllable-per-line poem), visitors picked a topic about the environment that concerned them, like soil radiation levels, safe drinking water, algal blooms, melting ice caps, the urbanization of birds, or the honeybee plight. They were encouraged to even count syllables out loud on their fingers!
STATION 4: Encounters with Nature: Fill-in-the-blank poem
William Wordsworth's famous 1807 poem ''I Wandered Lonely as a Cloud" [https://www.poetryfoundation.org/poems/45521/i-wandered-lonely-as-a-cloud] became the starting point for those visitors who wished to update a canonical poem. Starting with a simple simile, some proposed alternative titles, like: "I Wandered Fluffy as a Cloud, "I Wandered Stiff as a Cloud," and "I Wandered Distant as a Cloud." Thereafter, they filled in blanks in the original poem to initiate a personal interaction with nature, ideally suited to the space of the 'Begegnungsraum,' which is devoted to new encounters.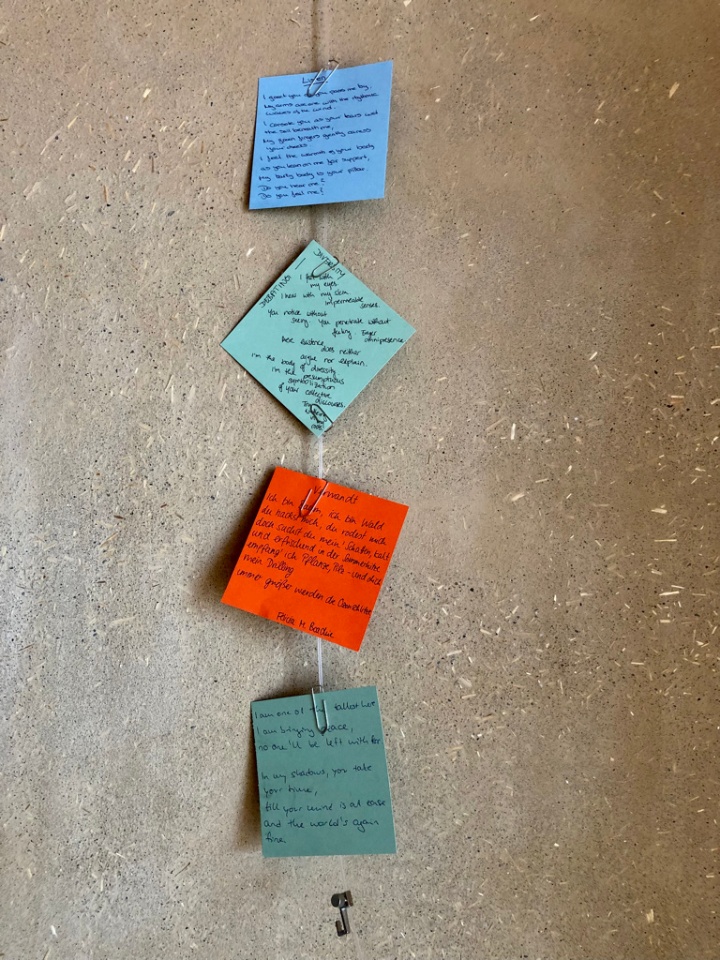 Title
Flyer_Poetry_Meets_Science