Our Study Courses
Anglistics
Bachelor of Arts, Master of Arts
The English Literatures Department offers Bachelor's and Master's programmes in English Studies. These consist of literary, cultural and linguistic parts. In addition to authors such as Shakespeare, Hemingway and Orwell, the main focus of teaching is on the traditional texts of English and American literature. In addition, the course includes aspects of postcolonial studies and interdisciplinary cultural studies. Here the boundaries between the disciplines of English and American Studies are crossed when cultural phenomena are considered in different media.
Englisch as a Teacher
Bachelor of Arts, Master of Education
In addition to the courses in English Studies, the English Literatures Department offers a variety of teaching profession-related combinations. Bachelor's and Master's programmes in the field of English teaching can be combined with many attractive subjects from the humanities and natural sciences. In addition, teacher training courses at the University of Stuttgart include an accompanying academic course covering the field of pedagogy.
Annotated Course Catalogues
Study Programme Manager Anglistics/English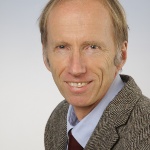 Dr.
Thomas Wägenbaur
Study Programme Manager Anglistics/English